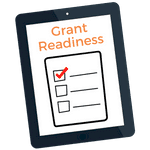 Get our FREE Grant Readiness Checklist
Prepare for your proposal writing journey!
I will protect your information, will not share it, and will not misuse it.
Tired of being stuck in a classroom or silent behind a computer screen? Funding for Good takes online learning to a new level by offering interactive webinars and master classes that challenge participants to ask questions, explore best practices, and put their newfound knowledge and skills into practice. Come explore all things "Non-Profit Development" with us today!