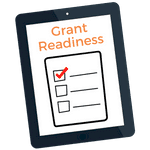 Get our FREE Grant Readiness Checklist
Prepare for your proposal writing journey!
I will protect your information, will not share it, and will not misuse it.
Services by Funding For Good
Funding for Good is your one-stop resource for all things "Nonprofit development!" We have something for everyone no matter where you are in your mission. Funding for Good's team updates our free resources and events weekly so that you always have access to the hottest topics via vlogs, blogs, community workshops, and online training events.