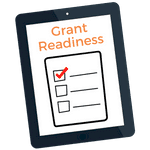 Get our FREE Grant Readiness Checklist
Prepare for your proposal writing journey!
I will protect your information, will not share it, and will not misuse it.
We've got a lot going on in the coming months here at Funding For Good. If you're local to any of our live events, we'd love to see you. Prefer to get live training with us from the comfort of your home or office? No problem, register for one of our webinars.