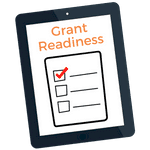 Get our FREE Grant Readiness Checklist
Prepare for your proposal writing journey!
I will protect your information, will not share it, and will not misuse it.
Does your Board of Directors have a lot on its plate but is not quite sure where to begin?
Whether you need help planning for the future, overcoming current obstacles, or resolving internal conflicts, Funding for Good can customize board training and leadership coaching services to meet the unique needs of your organization.
Choose from some of our most popular Board Solutions topics or let us help you customize a retreat for your organization.
Board retreats offer the perfect vehicle to educate, engage, and equip your entire board of directors in relatively short window of time.
The Coaching for Executive Leaders program provides personalized support and strategy sessions to increase effective communication and between the key staff and board members and ensure that systems are in place to grow the organization's mission.
Board Retreats
will benefit your organization if you are…
The founding board of directors
The established board that has never had formal training on non-profit roles and responsibilities.
Preparing for a transition and need guidance on best ways to proceed
Hiring or recently hired a new ED
Preparing to renew or create a strategic plan
Want to motivate and equip the board to participate in fundraising
Ready to "structure your organization for success" by creating/renewing policies that protect
Need help with leadership and succession planning
Executive Coaching
is the best option if…
You have a new ED or Board Chair
The current ED and Chair have limited or no formal non-profit leadership experience
Current leadership has experience but limited formal training/education in non-profit management
Conflict resolution is needed between the ED and Board Chair
Ongoing professional support is needed to accomplish your individual goals
If you are preparing for a transition in leadership
Seek tools for continued board development
I reluctantly agreed to attend a board training conference when asked by the ED of the Sheridan Foster Parent Exchange with little hope for intellectual gain. By page two of the Building Positive Board Dynamics booklet I was writing notes and had fallen in love with the perky and pointed delivery of Mandy and Marie. They were serving up mouthfuls of knowledge to my embarrassingly deficient understanding of board function and my role as a board member. I liked it so much I attended a VIP training two days later.
VIP Day
Put our experts to work for YOU during a customized VIP Day!
These work sessions are more than a traditional consultation. We actually roll up our sleeves and help your team tackle the most important tasks on your plate.  Each VIP session includes an initial planning calls, focused work session, and follow-up from Funding for Good's pros. This is the perfect solution for organization's that need a little (or a lot!) of extra energy and support to grow your organization for good!
I run a small volunteer team and an even smaller budget to tackle very large and complex community programs in the animal welfare space. With the stress of feeling like I am simply trying to keep my head above water day after day in sustaining our work in the community, the idea of successful growth is like that life raft you can see but there's no way to ever reach it.
Mandy and Marie helped me personally as a leader transition from overwhelmed and burnt out, back to re-energized and refocused in a matter of hours during our VIP Days together. Their outside perspective and expertise in the field helped pull me out of what seemed like nonprofit quicksand to get me back on a clear path to meet our organizational goals.
I highly recommend working with Funding for Good if you are looking to gain a clear perspective and best prioritize your time and resources to effectively fulfill your mission.
Mandy is fantastic resource for all non-profits! After taking a few of her local classes, reading her blog posts and watching some webinars I knew I was ready for a deep dive into grant writing, development planning and board development. I hired Mandy as a consultant for her VIP Day package and know the investment of time and money were both WELL spent! Her expertise is incredible as she is professional and knowledgeable.
I highly recommend her services if you are feeling overwhelmed, want to better understand development tactics, or are ready to take your organization to the next level.
Our Top 5 Board Solutions Retreat Topics:
1. Board Roles & Responsibilities
Does your board function as a managing or governing entity? Does your board actively work along staff or passively wait for staff to report back to them? The most ineffective boards are ones that do not understand their roles and responsibilities to the organization.
This workshop will clarify the roles of board members versus those of staff. Participants will learn skills and systems they need to transition from an inactive or a managing board to an efficient governing body.
2. Building your "A-list" Board
When you look at your board of directors what do you see? Worker bees exhausted from the daily grind of keeping the organization running?
Are there simply warm bodies in seats? Perhaps there are seats left empty by big name people who never seem to find the time for meetings?
This workshop evaluates the strengths and weaknesses of your board. Participants will gain a clear understanding of who "could" and "should" be on their board of directors as well as processes and procedures to ensure that board members are screened, equipped, and empowered to generate impact for your organization.
3. Strategic Planning 101
Does your organization have a strategic plan or specific project/program goals? A board retreat is the perfect time to provide updates to the board and share how your organization is creating impact.
FFG will work with staff to ensure they can share highlights in the areas of programming, resource development, and lives changed. It is important to celebrate successes and recognize areas for continued development so that the organization has benchmarks for the upcoming year.
This workshop will provide participants with a safe place to share concerns and ideas about specific programs and/or the organization as a whole. Each agenda item will be listed along with potential courses of action so that the organization can prioritize and respond.
4. Structuring for Success
This retreat focuses on building a solid foundation to protect your organization's mission, staff, and clients. It is impossible to effectively "brand" your organization, establish operating norms, and even plan for the future if you don't know "Who you are and where you want to go." Allow a neutral expert to facilitate a visioning session designed to fully engage your board.
Work sessions focus on crafting/modifying mission and vision statement, identifying evaluating current policies, procedures, financial literacy, and leadership and establishing an action plan to structure for success.
5. Jump Start to Board Fundraising
This interactive retreat is not for the faint of heart and actively engages every member of your team in messaging, key fundraising processes, and skills! Your board and staff will benefit from targeted fundraising strategies and will be challenged to put newly learned skills to use immediately so that your bank account starts filling up within 90 days!
Not Sure What You Need?
While a consultation with your local dentist might not be at the top of your list…we can promise that a consultation with Funding for Good is a painless and productive experience! Our pros make the most of every minute and work with your team to evaluate your organization's needs, explore opportunities, and outline the ways that Funding for Good can help you achieve goals!