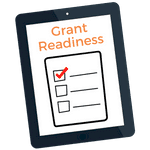 Get our FREE Grant Readiness Checklist
Prepare for your proposal writing journey!
I will protect your information, will not share it, and will not misuse it.
Development Coaching with Funding for Good
Are you a nonprofit Executive Director or Development Director looking to take your skills to the next level?
Are you ready to get your ideas off paper and put them into practice?
If you are like most nonprofit staff, you are surrounded by great ideas and suggestions from well-intentioned supporters. As your development coach, I will be there evaluate opportunities, block out the noise and focus your energies where they matter the most.
I work with clients where they are, be it new, experienced or seasoned. My communication style is direct and prompt. I am not the coach that beats around the bush or shies away from constructive feedback. I will work closely with you and your team to ensure the highest quality work product possible for you and your organization. My desire is to see you exceed goals and grow your development skills.
Custom Coaching designed with your specific needs in mind
• Provide personalized support and strategy for your Executive Director or Development Director.
• Create a realistic and relevant development plan to fully fund your organization.
• Develop techniques to grow diversified fundraising streams through best practices.
• Maximize your time and energy to achieve upcoming goals.
• Work to deepen relationships to cultivate intense donor loyalty
• Design and implement tools to track goals/objectives as they relate to organizational financial development.
A custom coaching program is right for you if…
You are an Executive Director that is also responsible for raising resources
You are an Executive Director hiring your first development staff and need help creating job descriptions, interviewing, establishing a work plan and evaluation criteria for this staff
You are a new Development Director looking for guidance and practical skills
You are a Development Director looking to diversify your funding streams in new ways
You are tackling new strategies such as direct mail, capital campaign planning, annual campaign, event planning, endowments, etc.
Find Your Next Development Director
A focused service to help you build the right team so you can make a greater impact.
If there's one thing that can be universally agreed upon, it's that raising money is hard. You need a solid development plan & team.
With this custom-to-you service, we'll help you:
Understand what you're looking for & write a clear job description
Develop interview questions & even sit on the interview panel if needed
Create a 30/60/90 day work plan so your next development director can hit the ground running on day one.
Hire (the right) Development Director
As an executive of a nonprofit, I know that fundraising is vital to our organization, but it is not something that I have a background in doing – I am an economist and attorney by training. When I took a grant writing class with Mandy, I could see how much she really knew about the world of fundraising and how much she could help me navigate problems in building the fundraising capacity of my organization.
With a short-term contract, she helped me create the right job description to attract an experienced fundraiser, put the announcement in the right places, review the numerous applications I received (and set up the whole interview process), and ultimately find the right person to serve as the new VP of Development. During all of that work, she also helped me draft a fundraising plan (for the new person to implement), provided fundraising training and processes for me and other staff, and still identified grant opportunities and shepherded me through the process of applying.
As an organization that focuses on efficiency and measuring return on investment, I am confident in saying that contracting with Funding for Good has had a great ROI for me and the organization.
Sometimes when your non-profit dreams seem crushed, you're looking for a kind word of encouragement.  Other times maybe you need a smack in the face with a reality check. Funding For Good's Miss Mandy (bad cop) and Miss Marie (good cop) can deliver both. I recently attended a VIP training that afforded third party confirmation that our NP had to make some serious changes to survive. They are serious enough about helping NPs thrive they will roll out the hard truth people need to hear and then show them a clearly definable roadway to success. They provided charts for pre & strategic planning, resource checklists, and goal setting exercises.
If your NP is struggling, you are probably too close to the problem to see the solution. Funding For Good was the third party perspective that could save our NP dreams.
VIP Day
Put our experts to work for YOU during a customized VIP Day!
These work sessions are more than a traditional consultation. We actually roll up our sleeves and help your team tackle the most important tasks on your plate.  Each VIP session includes an initial planning calls, focused work session, and follow-up from Funding for Good's pros. This is the perfect solution for organization's that need a little (or a lot!) of extra energy and support to grow your organization for good!
Feeling overwhelmed and unsure how to help move our organization to the next level, I made the decision to invest in a one-on-one VIP Day with Mandy. I am so glad I did! She researched grants, evaluated our current fundraising plan and operating budget, helped me set realistic priorities, and generated ideas to grow and retain donors. I am already seeing results. But my biggest take away was the confidence I gained through her coaching. I now feel like I have the knowledge, tools, and resources I need to move forward. Mandy's passion for helping nonprofits is contagious. I would encourage anyone looking to develop their fundraising skills and gain confidence to reach new heights to spend a day with Mandy.
I became the Executive Director of Safe Harbor Rescue Mission in October of 2013 with absolutely no knowledge of grant writing or growing a development department. Mandy, with Funding For Good, Inc., was contracted to research and write grants for Safe Harbor in 2014, giving us a 192% increase in grant funding over the previous year. In 2015, I retained Mandy as a Development Coach. With Mandy's coaching our revenue increased by 48% over 2014 and the knowledge I gained through her bi-weekly coaching was invaluable! I learned to cultivate relationships with Foundation program managers, city leaders, and potential donors. Mandy also helped me create a development plan, clean up our database and determine priorities. Because of the confidence, I gained through Mandy's coaching; I weaned myself to one session per month in 2016 and our revenue increased another 33%! I highly recommend Mandy as a teacher and coach. She not only invests her knowledge, but she invests her heart and passion to create a better world.
Not Sure What You Need?
While a consultation with your local dentist might not be at the top of your list…we can promise that a consultation with Funding for Good is a painless and productive experience! Our pros make the most of every minute and work with your team to evaluate your organization's needs, explore opportunities, and outline the ways that Funding for Good can help you achieve goals!
Read more about Development Leadership: