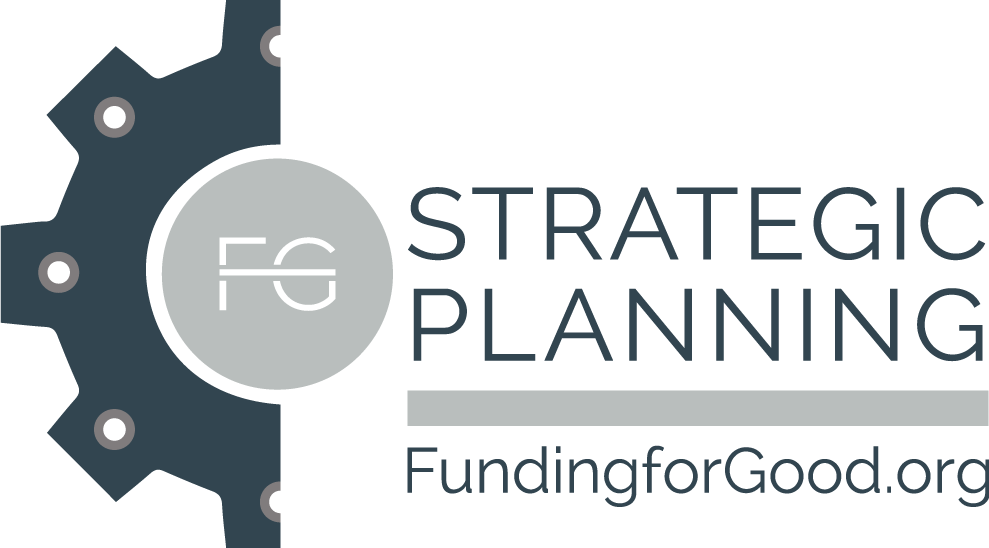 For nonprofits, governmental agencies,
and mission-driven for-profit organizations
Get Your Free Pre-Strategic Planning Checklist
We will protect your information, will not share it, and will not misuse it.
Define What Truly Matters for Your Organization's Future
Every organization needs an actionable and adaptable strategic plan —yet most planning processes are long and drawn-out affairs.
They shouldn't be.
The process simply needs to be intentional.
A consensus-driven planning process will help your organization:
Set workable goals everyone agrees on
Establish a multi-year timeline with a clear action plan
Develop strategies to overcome barriers and achieve the vision
At Funding For Good, we used our 40+ years of combined experience to design a process that takes the guesswork out of strategic planning.
Our three-step approach is straightforward, evidence-based, and timely.
No more thinking in circles, no more setting goals without a roadmap to reach them.
We work with nonprofit, for-profit, and governmental agencies nationwide to create visionary yet actionable plans to GROW.
At the end of our three-step process, you walk away with:
Clarity and consensus across your entire leadership team
Workable goals laid out in a professionally designed, editable strategic planning document
A playbook with a full suite of professional templates and tutorials for current and incoming team members
"Funding for Good did an excellent job helping us build a strategic plan for Spirit League. The two-day retreat was well organized, and Marie did an awesome job facilitating our sessions. Everyone got a chance to participate and buy into the final product. I have been to many corporate planning events, and this was by far the best in terms of process and output. One of the best things is that Mandy writes everything up in real-time, so you get a draft plan right away and they offer substantial support to help us make our strategy a reality.  I highly recommend Funding for Good to anyone looking to take their nonprofit to reach the next level."
Mike Jarpe | Spirit League Board President
Organization-Wide Alignment on a New Path Forward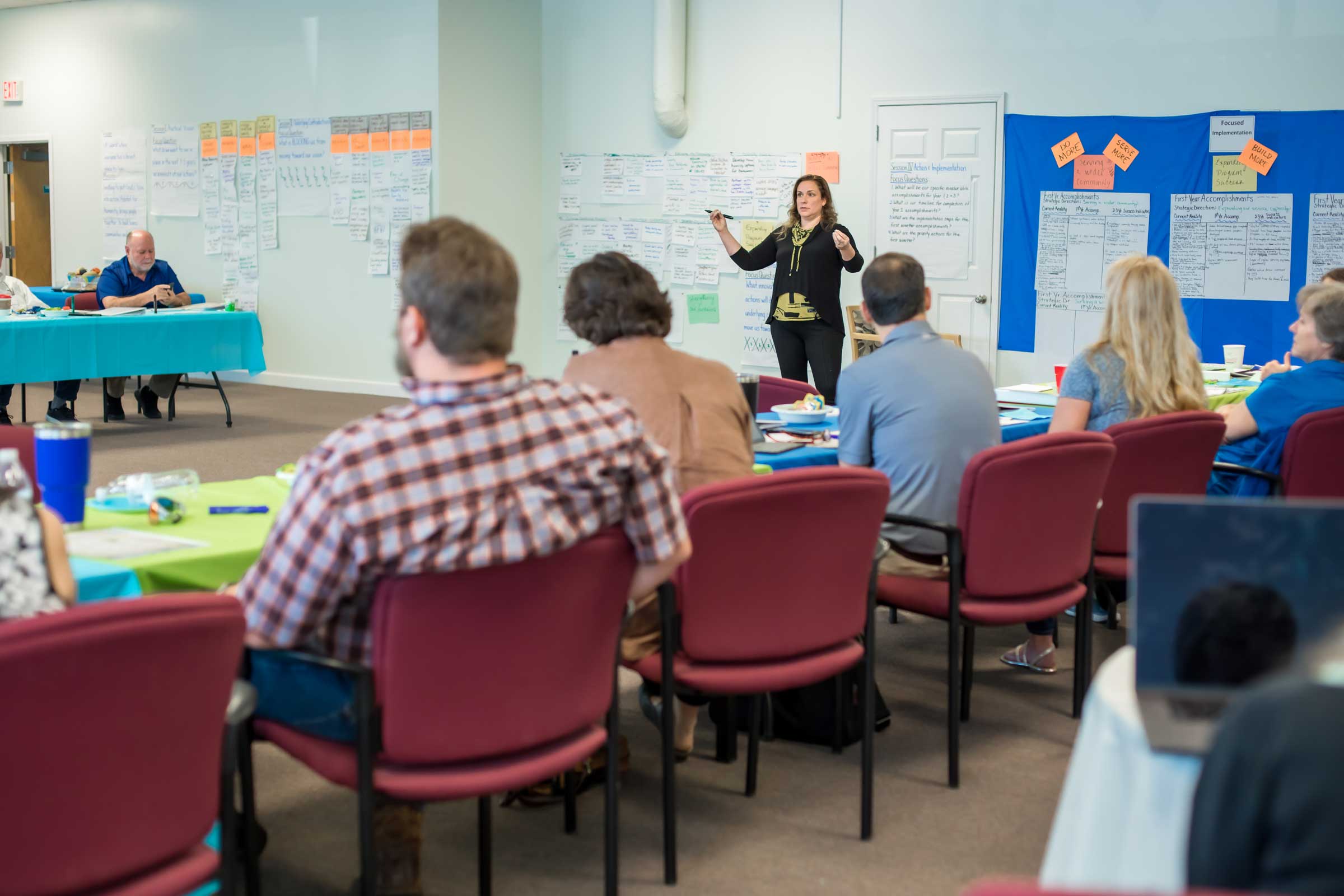 Most strategic plans fail because the right people weren't in the room.
Those plans sit forgotten while organizations are forced to scramble to adapt to the world around them. Without proper consensus, it's no wonder the plan failed.
Our team will help you bring the board, staff, and stakeholders together to ensure all voices are heard.
Our facilitators are experts at helping groups navigate challenging conversations to achieve consensus.
Planning retreats are high-energy and high productivity.
The final plans are exciting yet attainable
Visionary, actionable, and consensus-based plans.
That's the recipe for future success.
Alignment is critical to a successful planning process. Step one allows us to make sure the process is adapted to your unique needs to ensure the most successful results.
We work with decision-makers to:
Break down the strategic planning into actionable steps
Create tasks and timelines to drive an efficient process
Engage teams in an organizational assessment (SWOT)
Solicit targeted feedback from stakeholders
Ensure the organization's vision and mission statements are current and relevant
Prep for a productive planning retreat
Build on shared ideas and keep up the momentum in a two-day retreat. Both days are carefully designed and facilitated to allow for maximum efficiency and outcomes.
We facilitate focused and highly engaging sessions to:
Clarify the organization's vision for the next 3 years
Address barriers that might impact goals, strategies, and outcomes
Develop strategies to overcome barriers and achieve the vision
Create measurable goals
Establish multi-year timelines
Produce a detailed action and implementation plan for year 1 of your plan
Confirm reporting and accountability processes
You did the hard work of the big-picture thinking in the retreat, now we go and write your strategic planning document.
As you prepare to put your plan into action, you can expect us to:
Send you a professional, editable strategic planning document within one week of the retreat.
Provide a full suite of professional templates and tutorials designed to streamline your review and reporting processes.
Jump on a support call within 30 days of your retreat to answer any questions you might have.
Submit a proposal to explore ways Funding For Good can support your work going forward.
*This process represents our standard approach to planning. We customize processes to meet clients' individual needs to ensure the most successful results.
"When you engage Funding for Good for strategic planning needs, you are getting professionals who are well-versed in the TOP evidenced-based model. Many consultants in this space provide facilitation for the planning retreat alone. But Mandy and Marie provide guidance from the preparation and planning phases on into the implementation phase…as well as facilitating the planning retreat! Even with a full room and full agenda, their high energy and quick pace encouraged the exchange to stay on task and focused on the outcome. This process certainly has helped us synthesize how to "Build more. Do more. Serve more." in the next few years, and we are eager to see all that will be accomplished with our shift in strategic direction."
Meg Spivey | Development Director, Habitat for Humanity of Catawba Valley
Set a clear, actionable roadmap for the next 3 years.
We're typically booked 6-months out. Don't wait to get the process started.
For over 14 years, Mandy Pearce and Marie Palacios has been rolling up their sleeves and working hard to support mission-driven organizations. Our focus is making sure everything we deliver is clear, efficient, and actionable.
When organizations find themselves at a crossroads, we're the people they call.
"The Funding for Good team has a remarkable talent for steering the strategic planning process in such a supportive and streamlined way that the results seem almost magical! Our board and staff now have a clear vision for the future of our Center and actionable steps we can take to get us there. We are so grateful to Mandy and Marie for the unrivaled expertise and the incredible leadership they brought to our strategic planning experience."
Michelle Morgan, Executive Director | Women's Resource Center
"Mandy and Marie guided us with effective proven methods to engage staff and stakeholders with focused conversations and workshops. We conducted an environmental assessment, created a vision statement, discussed barriers to our success, and then developed strategic directions with an implementation plan with specific steps and assignments. The comprehensive process was exciting and inclusive, providing us with a plan that that we can continue to develop, while setting measurable goals to ensure the success of the Catawba Science Center. 
I would highly recommend the Funding for Good team to help any business through the strategic planning process!"
Tracy Hall | Catawba Science
"What I found most impressive about Funding for the Good is how they led the Bread of Life Food Pantry through the entire Strategic Planning process and I recommend them to organizations who are planning for their future.  In today's world information and decision making are rapid and quick paced.  When plans were made, Funding for the Good provided the action plan within hours after each planning session.  This kept the energy and excitement moving forward through each step of the strategic planning process, in my mind the key to success.  The presentation of tools for implementing the strategic plan to complete the measurable success was accessible and quickly applied.  With most strategic planning the plan itself takes months to complete and return to the organization who requested it, with Funding for the Good, the Bread of Life Food Pantry received a working draft copy at the end of our in-person retreat.  I also found the staff of Funding for the Good to be highly professional and competent with their work."

Rev. Doug Wasinger | Rector of St. Luke's Episcopal Church, Buffalo Wyoming
"Funding for Good's delivery on Strategic Planning services met our every expectation from preparation to implementation to follow-up.
We sought a clearly focused process with broad buy-in and a professionally facilitated and carefully documented planning time resulting in a clear, simply written Strategic Plan to guide us for the next three years. Their professionals guided our board in achieving all of this. I heartily recommend them."
Sam Avery | Board of DIrectors, Alder Springs Deaf & Blind Community
"Over the past decades I have been a participant in innumerable planning workshops. Some better than others, most below average. Funding for Good's workshop here in Sheridan, Wyoming was in another realm. Concise, focused, detailed, productive, actionable. Easily the best planning workshop I have ever attended. From the opening bell to the closing curtain, superior and sustained leadership by Marie and Mandy.
Can't wait for them to come back again for the follow up sessions."
Paul DelRossi | Chairman and Owner, North Fork Partners LLC
A Focused and Effective Strategic Planning Process
Develop a clear strategic plan for your nonprofit, for-profit, or governmental agency with broad buy-in.
With our three-step process, you'll walk away with:
Actionable goals and benchmarks
Organization-wide consensus for future growth
A full suite of templates and tutorials so you can get straight to work
One professionally designed, editable strategic planning document that won't grow dusty on the shelf