If your organization is preparing for a strategic planning process, you've likely heard the advice to find a great strategic planning consultant.
But finding that great consultant is often easier said than done. While there are plenty of strategic planning consultants out there, the trick is finding one that's right for your unique organization.
In this article we cover:
Strategic Planning Basics
Before you start searching for a strategic planning consultant, it's worth reviewing what strategic planning actually is, why it matters, and the consultant's role.
What is strategic planning?
Strategic planning is a structured process to guide an organization in creating, documenting and committing to a vision for the future, including the strategies, goals, objectives and activities that will bring that vision to life.
A strategic planning process culminates in the creation of a strategic plan. So, what is a strategic plan?
A strategic plan is a written roadmap for where an organization is going, how it will get there, and specific ways to determine if the organization has "arrived" at the destination. Through a strategic planning process, organizations might clarify their vision for the coming 3, 5, 10, or more years. However measurable goals and actions plans typically cover a shorter 3-5-year period.
While many organizations and consultants focus their energy on the written document, strategic planning is more than a simple product. A written plan can easily be shoved in a drawer or left on a shelf. And it often is. According to studies, over 60% of strategic plans never make it to full implementation.
That's why it's important to focus on strategic planning as a process.
Strategic planning is a process, not a product.
The process of bringing together an organization's leadership and stakeholders to build a shared vision for the future is arguably the most important part of strategic planning.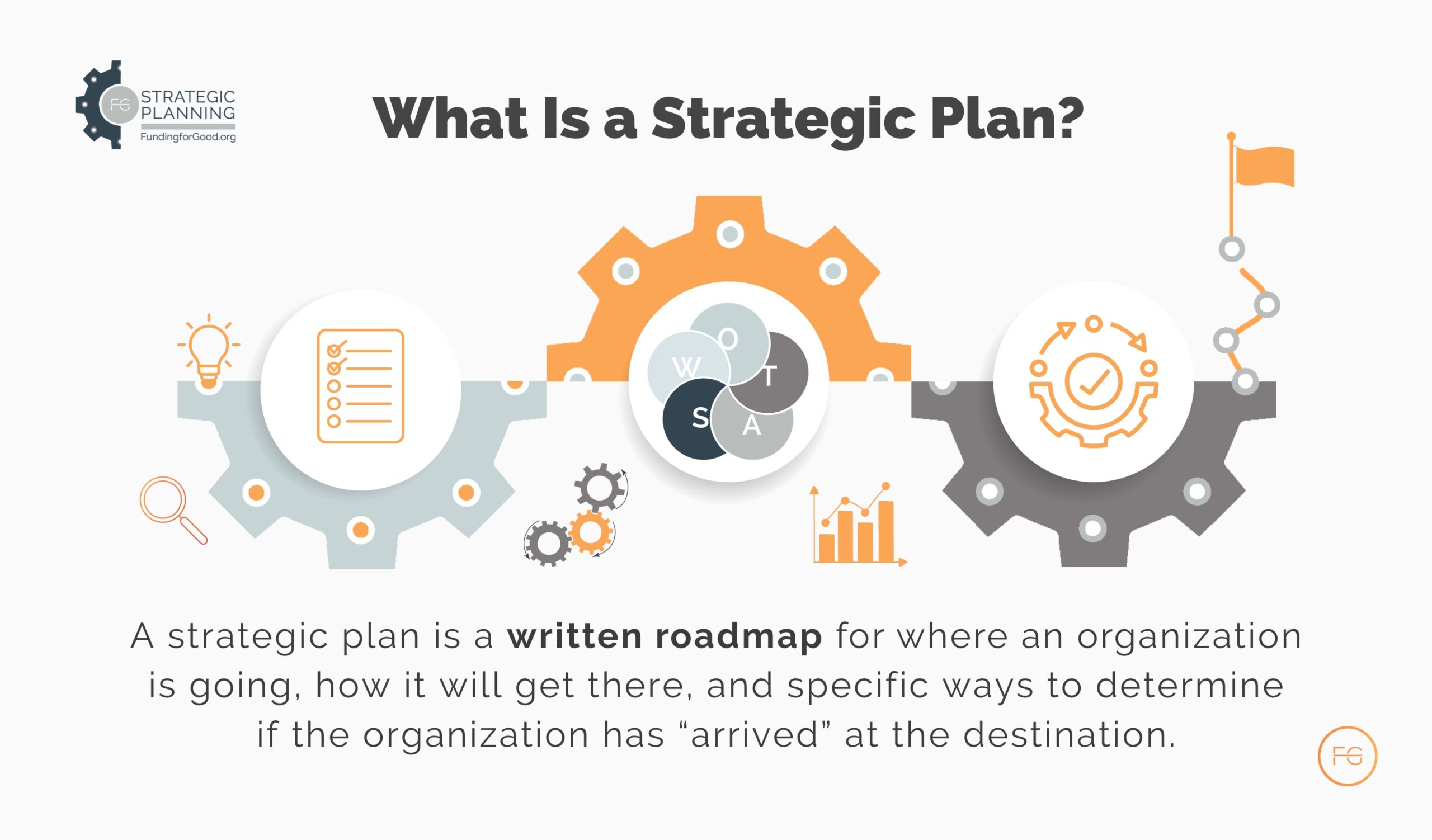 Why is strategic planning important?
Without a strategic plan, organizations and their leaders often struggle to prioritize. Daily, leaders make choices about programs, staff, infrastructure, technology, and more. Each choice carries real financial consequences. Without a strategic plan to guide decision-making, it's easy to spend precious staff and financial resources on ineffective work that doesn't truly advance your mission.
Another common problem is mission drift or mission creep—where organizations take on projects and programs that distract from, rather than contribute to, core missions. We often see this accompanied by burnout, low staff morale and high turnover. It can also affect fundraising and financial stability.
If an organization's leader doesn't know where they're going, how can they expect staff, board, volunteers and donors to follow?
Read more: What Happens Without a Strategic Plan? Check out Peloton
Luckily, the strategic planning process can yield important benefits for your organization. The process helps you:
Build consensus across your board and staff leadership about your organization's direction, programmatic and financial priorities, and measures for success. This creates valuable buy-in that will keep your team focused and supportive through the inevitable ups and downs.
Align your entire organization around a shared vision for the future—one that is clear, concise, and motivating. Research shows that 95% of employees don't understand their company's strategy. Getting your full team on the same page can be transformative.
Increase your impact and better leverage your resources. You'll set clear and measurable organizational goals and gain the tools to evaluate progress in real-time. You can identify what's working and what isn't—and course correct to better use precious financial and staff resources.
Kick-start strategic decision making—a decision-making process that is guided by long-term objectives and shared values. Your strategic plan becomes your guidepost for strategic decision-making, enabling you to identify the choices that advance your vision, mission, and values rather than work against them.
Are you ready to build a sustainable, impactful organization?
The Role of a Strategic Planning Consultant
What does a strategic planning consultant do?
A strategic planning consultant oversees an organization's strategic planning process, manages stakeholder participation and ensures successful execution. This typically includes developing a workplan and timeline, assisting with stakeholder feedback processes, facilitating strategic planning sessions or retreats, facilitating consensus building, and preparing a final written strategic plan.
A strategic planning consultant does the hard work of ensuring your planning process stays on track and is a success.
A consultant may also provide support for strategic plan implementation. This could include an overarching implementation plan and individual plans by department.
The value of a facilitated strategic planning process
While some organizations undertake strategic planning on their own, most choose to use an outside strategic planning consultant or facilitator.
Creating a strategic plan on your own may initially seem like a cost-saving measure. But it can ultimately cost your organization more. Here's how:
Strategic planning requires time and investment from your senior board and staff leadership. And those hours translate to dollars. Your most highly paid staff members will inevitably spend time on the mechanics of your planning process rather than focusing on the substance of your organization's strategy. When your CEO is spending time planning agendas or developing stakeholder questions, there are massive opportunity costs. Consultants can save CEOs time and money by taking the guesswork out of the process, simplifying the process, streamlining pre-planning processes, holding team members accountable, and more.
Strategic planning is a great antidote to groupthink in both nonprofit and for-profit organizations. But only if you bring in an outside facilitator. Otherwise, power dynamics may compromise your strategy process. Even senior staff members who aren't the CEO may be less inclined to share fresh and potentially unpopular (with the CEO) input. A skilled consultant can ensure that everyone participates equally. Your facilitator creates spaces where tough feedback is welcomed rather than shut down.
Strategic planning requires building consensus. This can be hard if your board, staff, and other stakeholders have wildly different ideas about the direction of your organization. If you can't move your planning group toward consensus, you risk never completing the planning process. Or, if you decide to railroad a plan through, your team won't benefit from the buy-in that results from creating a shared vision. Your consultant will bring years of experience facilitating consensus-building while also being seen as a neutral agent.
Because of these factors, most organizations choose to work with a strategic planning consultant. This way, your board and staff leadership can focus on strategy while your consultant handles the logistics.
How To Choose a Strategic Planning Consultant
Unless you've worked with and liked a particular strategic planning consulting firm, you're going to need to create a strategic planning RFP or request for proposals. Ideally, you'll want to interview and compare proposals from at least two to three strategic planning consults.
What to look for in a strategic planning consulting firm
Generally, you will conduct an initial call with each strategic planning consulting firm to share more about your organization and goals for strategic planning. After the call, the consultant will prepare a proposal and scope for your consideration.
As you evaluate strategic planning consulting firms, you'll want to consider:
Experience: Look for a consultant who has previously facilitated strategic planning processes with successful results. When it comes to consultants, there is often a sweet spot where a consultant is highly experienced—having worked with dozens of similar clients—but still committed to customizing the process for your organization. You don't want to end up with a cookie cutter strategic planning experience that never gets below the surface.
Familiarity with organizations like yours: Make sure your consultant is at least familiar with your sector. For example, a mid-sized nonprofit direct service organization vs a Fortune 500 company will have very different internal and external dynamics. Also consider whether the consultant has worked with organizations of similar size, budget, and development or growth stage. If you're a nonprofit organization, consider seeking out a consultant who specializes in nonprofit strategic planning.
Proposed scope: The project scope a consultant provides you will tell you a lot about their process, qualifications, and professionalism. There should be a detailed description of the full strategic planning process, including timelines and outputs. When evaluating a proposal, be sure you understand: What does the consultant's process encompass? How long does their process take? What is the expected time commitment from your team? Make sure roles and responsibilities are clearly spelled out. For example, what elements will be included in the written strategic plan? Will there be a or other similar process conducted?
Strategic planning models used: There are dozens of strategic planning models and tools. Ask consultants to explain which method or methods they are proposing to use, why they recommend it or your organization, and whether it is evidence-based. For example, when discussing strategic planning models, you might hear terms like the Classic Model, Issue-based Model, Technology of Participation, SWOT Analysis, or Environmental Scan. Your strategic planning consultant should be able to clearly describe their proposed method, including the process, outcome, and approach to stakeholder engagement. If you're interviewing multiple consultants, the number of models and terms can become overwhelming. We designed our guide to the Basics of Strategic Planning Models to help.
Track record: It's best practice to ask for references—previous clients who can speak to the consultant's work and approach. If a consultant isn't willing to provide references, consider this a red flag.
Fees: All services, fees, and payment schedules should be outlined in the proposed scope. When conducting a time intensive effort like strategic planning, expect to pay a deposit up-front before work begins.
How much does a strategic planning process cost?
Strategic planning consultant fees vary widely. If you search online, you'll find strategic planning consultant fees ranging from $5,000 up to $80,000 or more!
Which is why it's important to understand your needs and budget up front. Consider creating a budget range and sharing that with consultants during your initial conversation. If you speak to several consultants, and most can't work within your budget, you may need to reassess your budget and expectations.
Several factors can affect cost.
A consultant's experience and size of firm. Smaller consulting firms may have lower fees, while you can expect large and well-established firms to cost more. Note the size of the firm isn't necessarily an indicator of the quality of the process.
A bare-bones, cookie-cutter service vs a comprehensive, tailored process. While a bare-bones process may be tempting, keep in mind that your leadership will be doing more of the work (vs the strategy).
The size and complexity of your organization. A large organization with multiple affiliates in multiple cities, and a history of past mergers, will require a more complex and time-intensive strategic planning process than a smaller organization with a singular mission.
Consultants may also include additional fees for add-on services like:
Travel and supplies
Extensive stakeholder interviews or custom surveys
Implementation planning services
Department-level planning services
Follow-up support and ongoing services (quarterly reviews, annual reviews, etc.)
Strategic planning is usually a significant investment for an organization—both in cost and in outcome. After spending valuable time and money, you don't want to end up with a strategic plan that doesn't work for your organization. Which is why making sure you find the right consultant, rather than just the cheapest, is so important.
10 questions to ask a strategic planning consulting firm
As you review proposals from strategic planning consultants, or hold follow up conversations, you'll want to ask a standard set of questions that probe below the surface. For example:
How will you tailor the strategic planning process for our organization?
How many organizations in my sector (and/or size, growth stage, etc.) have you worked with before? What are some of the lessons you've learned from that work and the best practices you've created?
How would you describe your facilitation style?
How do you approach building consensus?
How do you help clients navigate conflicts?
What do we, as organizational leaders, need to do to be successful in our strategic planning process?
What are the most common challenges you've seen organizations struggle with during the strategic planning process?
If you encounter strategic issues outside of your expertise, how will you handle that?
Once the strategic plan is ready, what support will be available for implementation? If needed, do you provide add-on services for the implementation process?
How often do you recommend that we consult our strategic plan? Under what conditions should it be updated or revised?
Working With a Strategic Planning Consultant
Now that you've vetted and selected your strategic planning consultant, it's time to get to work!
What are the steps in a strategic planning process?
Generally, a strategic planning process includes at least three steps:
1) Preparation. This includes creating a work plan and timeline, setting roles and expectations, gathering and analyzing stakeholder input, conducting an organizational assessment to identify internal and external challenges and opportunities, and ensuring that the organization's vision and mission are clear.
2) Strategic planning sessions or retreat. Your strategic planning consultant will facilitate one or more intensive strategy sessions with your board and staff leadership, and any other stakeholders you've agreed to include. This is where the hard work of building consensus and alignment truly happens.
3) Strategic plan creation. The final stage of your strategic planning process is preparing and finalizing your written strategic plan. Your plan could take different forms, such as a written report and a detailed slide deck. This is the part of the process where ensuring internal awareness, alignment, and buy-in across your organization is especially important. Make sure you work with your consultant on a thoughtful roll out strategy.
You will likely see several variations of this process among consultants. But be sure that at least these three basic elements are included.
While implementation can make or break a strategic plan, it's generally not considered part of a strategic planning consulting scope or cost.
When to lead and when to follow
Sometimes we see organizational leaders start a strategic planning process thinking they already know the ultimate outcome. If you're a CEO, of course, you should have a clear vision of where your organization is going. But it's just as important to be open to new insights through the process of strategic planning.
We encourage organizational leaders to see themselves as participants in, rather than drivers of, the strategic planning process.
You've invested a lot of time, effort and resources in choosing your strategic planning consultant. Now it's time to trust them. Bring your best ideas and be ready to listen to others. The magic of strategic planning is the opportunity to make unexpected connections, find creative new insights, and have plenty of "ah-ha" moments with your team.
If your strategic planning consulting firm is a bad fit
However, there is one moment where a CEO or Executive Director should step back into the driver's seat: if your strategic planning consultant simply isn't a good fit.
This does happen occasionally, and it can be challenging to navigate. Perhaps the consultant's style is a mismatch. Maybe the consultant doesn't know as much about your sector or challenges as expected. Regardless of the cause, organizational leaders owe it to themselves, their organizations, and their strategic planning consultant to call a pause.
Take a step back and have a conversation with your strategic planning consultant. Make sure your consultant's primary point of contact is also included in this conversation. Frequently changing points of contact can create an impossible-to-navigate situation for consultants.
During your step-back conversation, share specific feedback, including concrete examples, about what isn't working. Be open to discussing ways to get the engagement back on track. If it's truly a wrong fit, your contract should spell out terms, conditions, and fees for ending the engagement.
Your Strategic Plan is Ready…Now What? 
Congratulations, you have completed your strategic planning process! You've worked with a skilled consultant to prepare a concise written strategic plan that you're certain will position your organization for success.
Now it's time to implement your strategic plan. Which means the work has only just begun…
How to roll out a strategic plan
If your organization has more than 20 employees, it's likely some may know little about the strategic planning process your leadership team has gone through. Let's be honest, even if you've briefed all-staff meetings, given managers talking points, and shared updates over email, many people probably haven't paid attention. This is absolutely normal.
Which is why developing a thoughtful roll out strategy for your strategic plan is so important.
When talking to staff, board, volunteers, donors, and other stakeholders about your strategic plan:
Break out the toplines in easy-to-digest formats. For example, you could take your three-year goals and create a graphic, a slide deck, and a brief email.
Show your own authentic enthusiasm. If you're a CEO or Executive Director and you're not excited about your strategic plan, how can you expect your team to be? Ideally, you should wrap up the strategic planning process energized, engaged, and eager for the future. Make sure your staff, board, and stakeholders see that enthusiasm!
Be upfront about how the plan will affect different stakeholder groups. Staff may be especially concerned about how their jobs will be affected. For example, if you're restructuring a program unit—or adding a new one—how will current staff positions change?
Create space for questions and answers. Depending on the size of your organization, this could take place in one-on-one check-ins, department meetings, all-staff meetings or—ideally—all of these.
Prepare for hard questions. Your strategic planning consultant should have guided you in doing the work to bring your entire team along and build buy-in. But even so, you may still encounter hard questions. Be ready by preparing FAQs or even sending a survey to gather insights on what people are most worried about and most excited about.
Operationalizing a strategic plan
Finally, it's time to move from strategy to action. Operationalizing a strategic plan isn't a one and done activity. Implementation lasts the life of the plan. Consider:
How will each department or program unit be affected? What goals is each department responsible for? If this adds work to a department, will other activities be deprioritized, or will capacity be added?
How many new hires will you be making? Do you have internal recruitment and HR capacity, or will you need to work with a recruiting firm? How will onboarding be handled?
How will you pay for new costs? If you're a nonprofit, this means honing your fundraising strategy.
How will implementation decisions be made? Leaders will face constant small decisions throughout the implementation process. Is your leadership team committed to using your strategic plan as a starting point for strategic decision-making?
These questions are only the beginning.
Operationalizing a strategic plan is a major undertaking. It's also not included in a general strategic planning scope. So you may want to consider finding a strategic planning consultant who can also help create implementation plans.
How often should a company revise its strategic plan?
Organizations should be using their strategic plan like a roadmap. That means every time you get in the car, you look at your map to make sure you know where you are and where you're going.
Organizationally, we recommend that board and staff leadership review progress toward strategic plan goals and benchmarks on a quarterly basis (at minimum twice per year). This gives you the chance to keep your strategic vision front and center for everyone. It also enables you to learn, evaluate, and course-correct in real time.
Many strategic plans generally cover 3-5 years. So you should start thinking about the next strategic planning process during the budgeting time frame before your current plan expires. Realistically, for a new strategic planning process, most organizations take 9-12 months to explore budget options, establish scope, and secure consultants.
In some cases, you may find that your implementation has veered wildly from your original plan. If that's the case, you probably want to invest in a revision process. At the point where your strategic plan no longer makes sense for your organization, it's time to get a new one.